The HBO movie
Temple Grandin
came to our attention during the Emmy Awards, when we saw it nominated for 15 awards and eventually winning 7 of them... that's at least what got my attention. What got C's attention was the subject matter: an autistic woman named Temple Grandin who has successfully changed the views of autism in the psychology world. So... we rented the movie, and as we sat through its 2 hours, we were blown away by the creativity, accuracy and honesty of the film. (You can read about it here on
Wikipedia
)
The 4 main characters did such a good job, 3 of whom won an Emmy for their performance: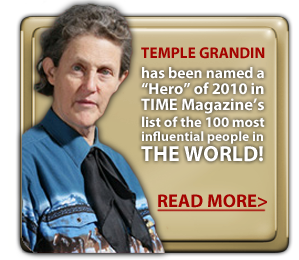 The movie follows the educational pursuit of an autistic woman in the 1970s-the present (Temple Grandin) who is now one of the most well-known successful and influential autistic individuals in the world.
The movie was beautifully directed, taking the audience into the mind of Temple. When someone mentions a "miracle" to Temple, we see a flash of Jesus walking on water-- something her mind would actually flash to. We also see the societal changes regarding autism from the 1950s to the end of the movie in the 1990s. At first, Temple's mom is told that not only does autism not have a cure and Temple should be institutionalized, but that it is actually the result of the her not being loving enough. The emotional pains felt by Temple's mom are felt by the audience (clearly granting Julia Ormond her Emmy). The movie's concludes with Temple speaking up for autistic children-- something no other autistic person had done before. Temple credits her mother's love, affection and insistence on normalcy as something that helped her. She concludes with: "I'm not less, I'm different" -- the theme of the entire film.
I'd highly suggest taking the time to see a movie that is one of the best I've seen in a long time. It's funny at the perfect times, dramatic at others, honest when it needs to be, and just is simply entertaining.
I give the film an A+ and wish is wasn't on TV so it could have been Oscar-worthy.