Today's top stories, bookmarked for all eternity...
So, you want a headache for the next 46.03 minutes?
If so, check this out...
5 second clips of all songs that hit #1
between 1956 and 1992
Five Seconds Of Every #1 Pop Single Part 1
by
mjs538
In more serious news...
The earthquake in
Christchurch, New Zealand
has proven to be extremely devastating and clean up is just beginning. Boston.com has published an incredible moving photo diary of the devastation. Here are a few that stood out to me the most, and
you can go see the rest here
.
Murray and Kelly James look at their destroyed
house in central Christchurch Wednesday.
(AP Photo/Mark Baker) #
A group examines one of the many icebergs that calved into
Tasman Lake as a result of the 6.3 earthquake in Christchurch Tuesday.
(Denis Callesen/NZPA/Associated Press) #
The facade of a building has crushed a car in Christchurch Tuesday.
(Kirk Hargreaves/Christchurch Press/Reuters) #
The protests in Libya are still going on, strong and violent.
President Obama
talked about the violence today, after the
UN spoke up
about the issue as well. If you're like me and were a little caught off-guard by Muammar al-Gaddafi ,
here's a wonderful article
on the crimes of Gaddafi. It gives you his history & explains
why
you've maybe never really heard of him.
Also, you can keep up with all the activities in Libya with
CNN's live blog
.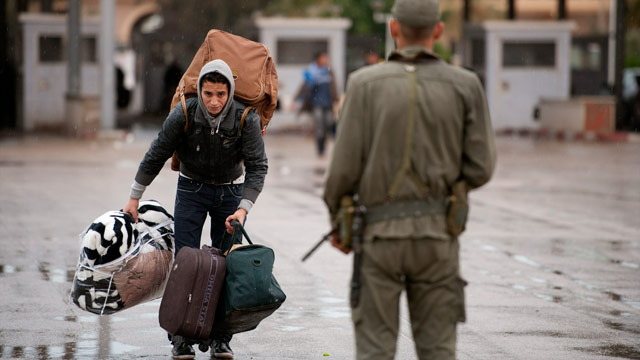 A Tunisian man crosses from Libya back into Tunisia on
Wednesday as thousands of foreigners flee the restive country.
As always, you check back every day around 5 for the day's top stories ♥