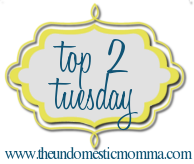 Today's topic: favorite celebrity hair!
If you'd like to play along, go on over to the
Undomestic Momma
.
So here goes...
Number 1:
Rihanna
This girl has done some crazy things to her hair... but I'm loving the red, bouncy 'do of late. Reminds me of Disney's Ariel (which was my
dream
hair as a child. I actually grabbed a box of red hair dye into the grocery cart when I was around 4, and when we got home, I pulled it out and asked my mom to use it on me!) So, needless to say: Rihanna's red hair is like a childhood dream in real life ♥
Number 2:
Keri Russell
I want curly hair. But I want curly hair that I can make into a bunch of different curl sizes. I'm amazed at how versatile Keri Russel's hair is! I know, she probably has lots of professional hair people doing her beautiful locks for her... but a girl can dream, right?