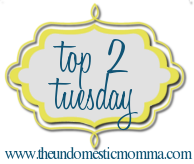 I've been reading these long enough... I might as well join in!
Go on over to Taylor's blog
The Undomestic Momma
to play along ♥
Top 2 Dream Rooms
1) A place to expand my book collection...
2) A beautiful place to cook. I need a bigger kitchen for as much as I love to experiment with recipes... and this kitchen featured on
Jen's Made by Girl blog
is exactly what I'd love...