After "Pirates of the Caribbean" opened up with $90.1 million this past weekend, I
know
we're officially in summer movie season. A time for big blockbusters to hit us all over the head, week after week, so that come Fall, we're begging for the melodramatic dramedies.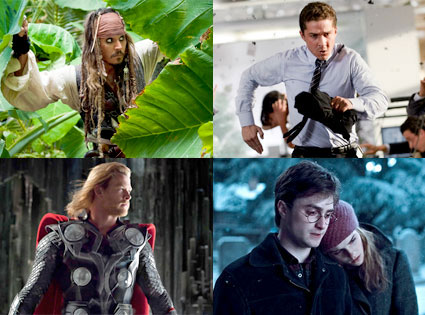 But....
we have a long way to go until Fall, and I can't just pass up this opportunity to look at the movie offerings as a whole! So consider this your Official 2011 Summer Movie Guide
(with a little help from E! Online
)...
It's already opened to a few criticisms, but a pretty good rating of 78% on Rotten Tomatoes, though it's only brought in $15.5 million so far.
Despite it's really, really poor rating of 33% on Rotten Tomatoes, it's already become the highest-grossing film of the year, and will probably stay on top for quite some time.
Funny if you want it to be... I may wait for the DVD release. But, either way, I'm really enjoying Zach Galifianakis' shaved head in the promos...
This is my "What were they thinking?!?!" summer movie. There's always one, and this wins hands-down.
This is the first "Summer Blockbuster" movie that I'm legitimately excited about... and it has 1/2 to do with how amazing Ryan Reynolds looks in that skin-tight, CGI'ed suit, and 1/2 to do with the fact that this is C's favorite comic book series and I feel like I may finally get to understand a little bit of his world.
My only thoughts on this are: Suck on that, Megan Fox! (but, you know, only if it's good. Insert "Michael Bay" if it's bad)
This is the 2nd movie I'm suuuuuuuuuuper

excited about seeing this summer. The end is finally here! I stole book 7 from my sister and have until July 14 to finish (re)reading it. I love Harry Potter about average with the other HP nerds, and I'm proud of it. Can't wait!!!
The 3rd Marvel comic book movie of the summer (too much??)... it could be bad or it could be good, I'm hoping the latter, but we'll just have to see.
And finally, the finale of all finales --- Harrison Ford & Daniel Craig dress up as Cowboys and fight Aliens. There is nothing better than that story line. The only way this movie will fail is if we're all too tired of "epic" movies by the end of the summer.
Other movies to look out for....
{It's going to be a good summer!}