Going on dates is not something I've ever been very good at. I'm always awkward and the added pressure of going on a "date" adds just enough more awkward that it's usually no longer fun. This little fact is something my poor husband has had to deal with for years.
So this past weekend, when I came home from the gym and then was informed that we were going to go see a movie, the "D word" stuck its little head out of the ground and I went into full-on panic mode.
I jumped in the shower, refreshed my makeup & hair, put on my new dress, and my favorite pair of wedges. Perfume went on and out we went...
Up first was "The Hunger Games". We liked it (I give it a B), but right after the movie the very uncomfortable inner angst swelled up. I started freaking out about "what if he really doesn't like the movie?" and "what if he wants to go home now?" and "he doesn't really want to be here... I should let him go do guy things" etc, etc, etc. Christian's no idiot & figured it out right away, tension grew just a bit, and then I decided to let it go.

Have fun. RELAX.
And then the night flew by with more fun after each step... we quickly ran through Wendy's for that sexy dinner everyone wants to eat in their newest black dress (yes, really... I ate a bowl of chili in the car on our date).
But we were rushing to the local wine bar,
Downtown Uncorked
, and there wasn't any other convenient dining around. At the wine bar, we sat & talked & planned, hassled the owner a bit,
and I enjoyed my first alcoholic beverage since the previous weekend
. (
because I'm still doing this
)
And at the wine bar I thought, "This is nice. Too bad it'll end soon." And then, it didn't. I suggested grabbing coffee from
The Village
next door. So we wandered over there, and I sipped on a soy latte while Christian had a beer, while we
made fun of
appreciated the art on the wall. Finally, when all the art was sufficiently
made fun of
appreciated, we went to the porch to sit & finish our drinks.
And then the barista took a smoke break, since it was closing time & we were the only ones left, and we talked to him for over an hour. About music, and life, and living in this town, and getting liberal arts degrees, etc. Finally we made our way to our car, and on our way home we both silently agreed the night wasn't about to end.
We were having too good of a time.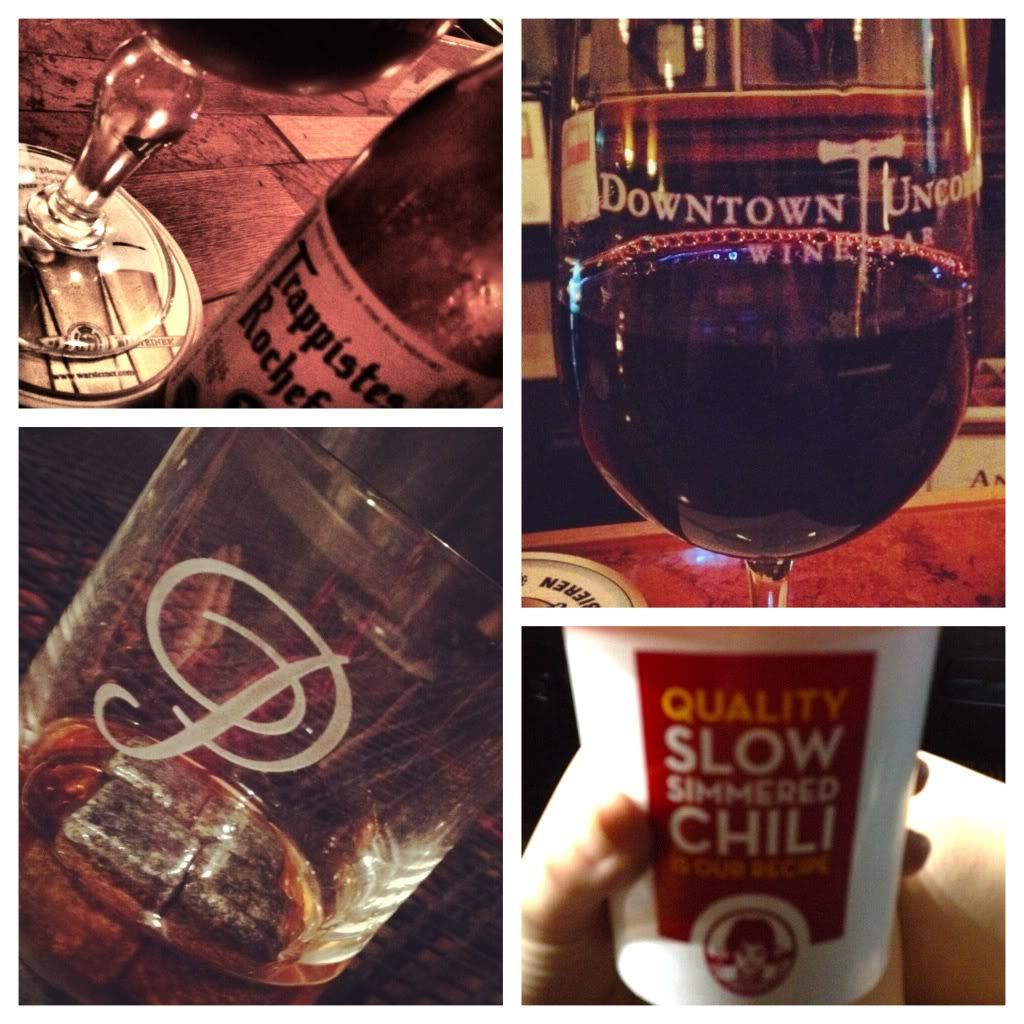 So at home, Christian made up a quick batch of Manhattans, which we sipped on our patio. That quickly evolved into Bourbon on the rocks. And then the night was finally finished. Two very satisfied people stumbled their way to bed & fell asleep in each others arms, waking up to a hangover great memories ♥
The best dates are always the ones that develop naturally.
What's the last great date you went on?