1. This weekend, we hosted my nephew Danzig at our house for
three days
... And lots of pictures, great memories and kisses were taken & had.
2. I learned that making plans with a 3-year-old is almost impossible. We barely did anything I had intended to do... but he didn't seem to care.
3. Toddler entertainment 101: Spiderman on Netflix. Trains he can climb on. And scissors.
4. Also, we made the most epic blanket fort of awesome. It was so big I couldn't get a picture of it. So trust me when I say big. Duct tape was used. Though I think Danzig had more fun tearing it down than anything...
5. Toddler meals 101: Make it fun. Make it small. And keep the novelty.
6. Danzig was obsessed with using
breakable
stuff... because that's pretty much all this kidless house has... and luckily tiny mason jars are the perfect size for a 3-year-old's hand. Also, he loves straws almost as much as I do.
7. Toddler fashion 101: Wearing a spiderman PJ set is totally acceptable in every scenario imaginable: playing video games, eating Ramen, and even naps in the car. It's basically the perfect outfit.
8. My favorite story of the weekend: On our way to meet up with his mommy at the end of the trip, Danzig yelled out from the backseat:
I'm not sleepy, Amy. I'm not!
To which I replied,
That's cool, Danzig
. To which he replied.....
ZZZZZZzzzzzzzzzz
9. We had so much fun with the little guy, but I have to admit it was really nice getting to pass him off to his mom, and get home to a nice, quiet glass of wine.
10. Also, SNL this weekend was hilarious and you have to go watch it now.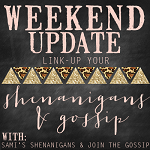 Have a great Monday ♥